Welcome to a captivating world where architecture meets artistry, where the Caribbean spirit finds its home in the heart of Rosemary Beach. We are thrilled to introduce you to an extraordinary masterpiece designed by the renowned architect Michael A. Piazza, a Caribbean cottage that stands as a testament to timeless elegance and unmatched luxury living along 30A.
Nestled within the enchanting Kingston Pocket Park, just moments away from the Butterfly Garden, Owner's Pool & Pavilion, and the Dog Park, this exquisite residence unveils a lavish tale of coastal living, a mere 5-minute stroll from the bustling Town Center. Let's embark on a journey through this remarkable property, where every corner exudes charm, and every detail tells a story.
A Caribbean Escape in the Heart of Rosemary Beach
As you approach this captivating home, you'll be greeted by the fascinating combination of three types of siding and two styles of metal roofing, beautifully woven together to mimic the charm of a small Caribbean cottage. It feels as though this residence has been lovingly expanded over the years, echoing the warm, welcoming embrace of a place that has hosted generations of family and friends.
The Art of Renovation
This Caribbean-inspired gem has been thoughtfully renovated to create a haven of relaxation and comfort. Step inside to discover a world of elegance and style.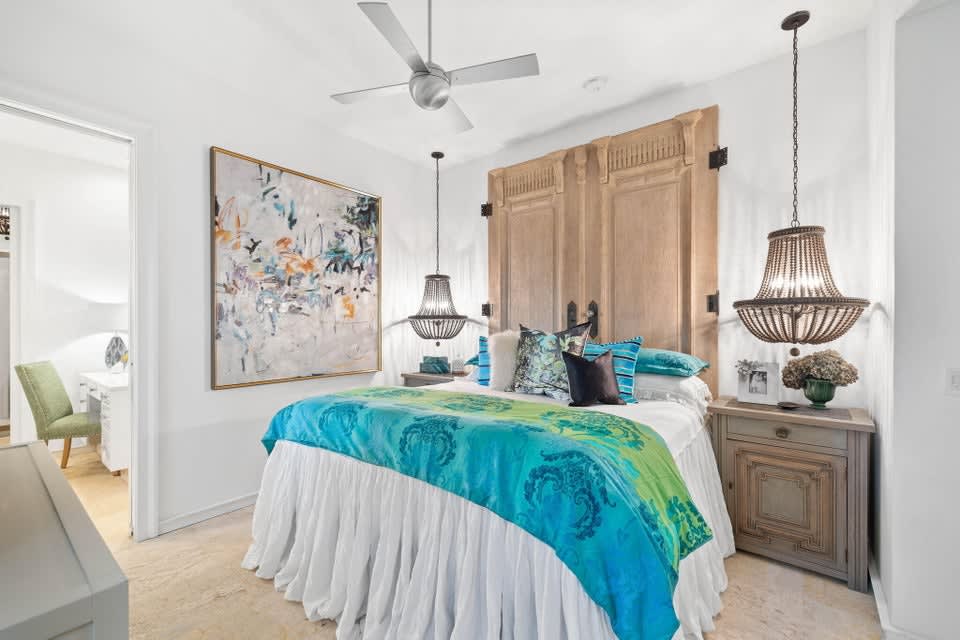 1st Floor Primary Suite: The first floor welcomes you with an extensive closet and a half bath, perfect for your guests. It's a private sanctuary where you can unwind and escape.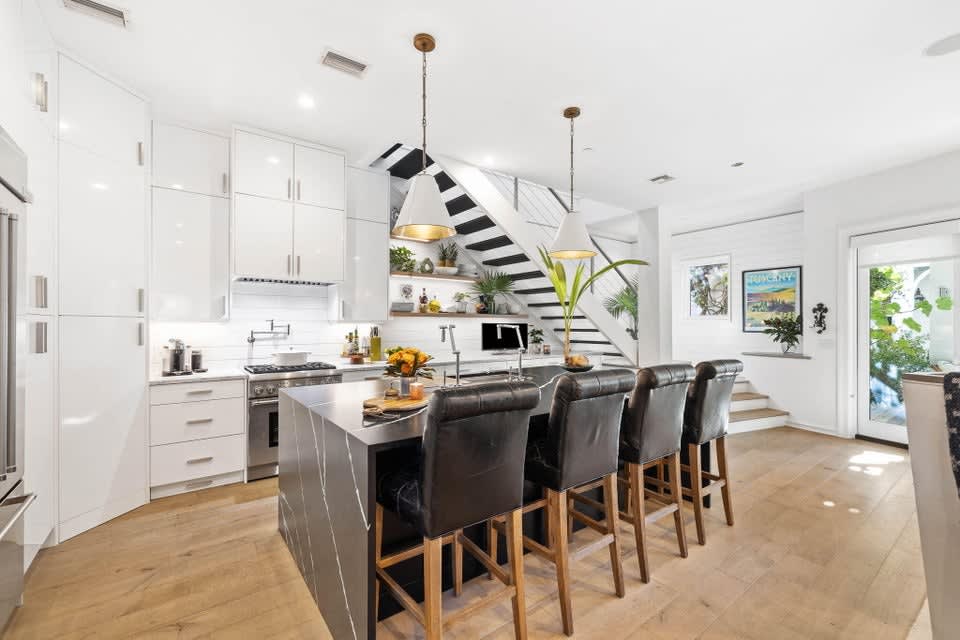 Entertainer's Dream Kitchen: The kitchen is a chef's dream come true. High-gloss white custom cabinetry and a matte black custom island with a 43'' Kohler workstation sink/cutting board are just the beginning. KitchenAid French Door Refrigerator, Dishwasher, and a 5-burner Dual Fuel Thermador Convection Oven/Range offer a top-tier culinary experience.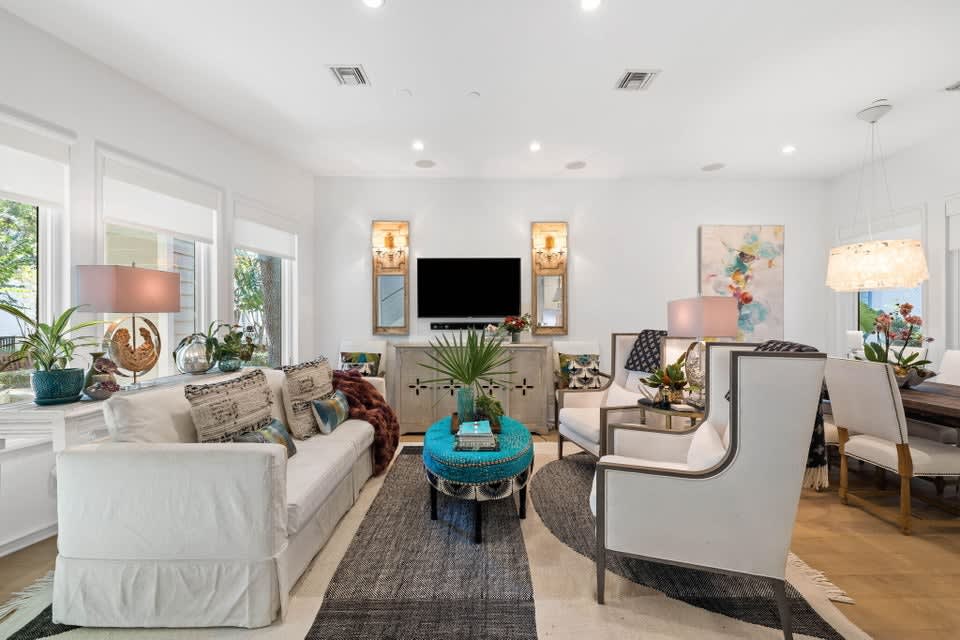 Living and Dining Room: The living and dining area overlooks the kitchen, creating a seamless space for gatherings and celebrations. It's a place where memories are made.
A Home for Everyone
As you ascend the elegant staircase with cable railings, you'll find even more to love about this residence.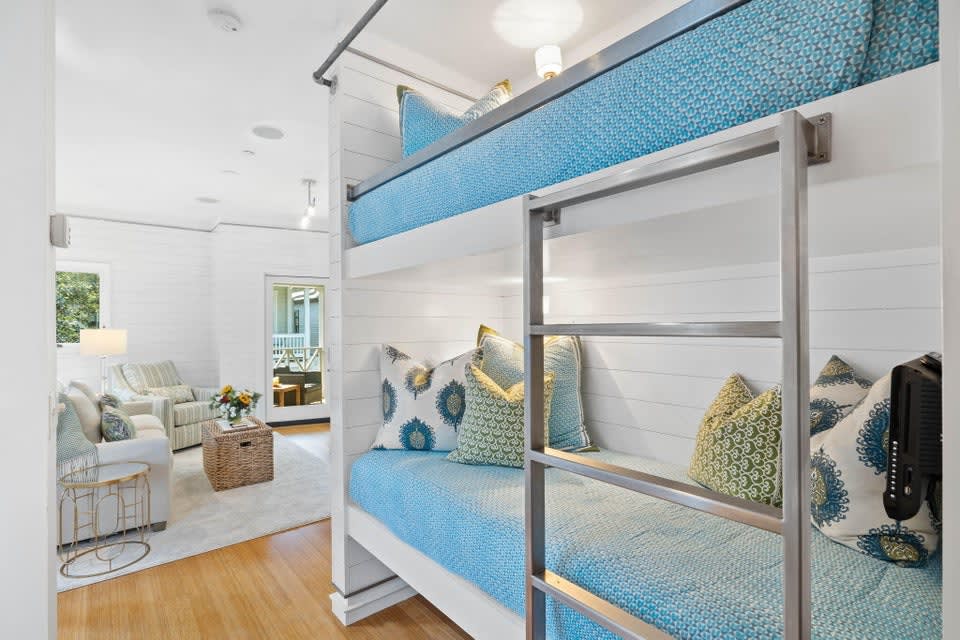 TV Loft with Built-In Bunks: The TV loft is a cozy haven with two twin built-in bunks. It's a perfect space for children, and the young at heart, to enjoy movies and games.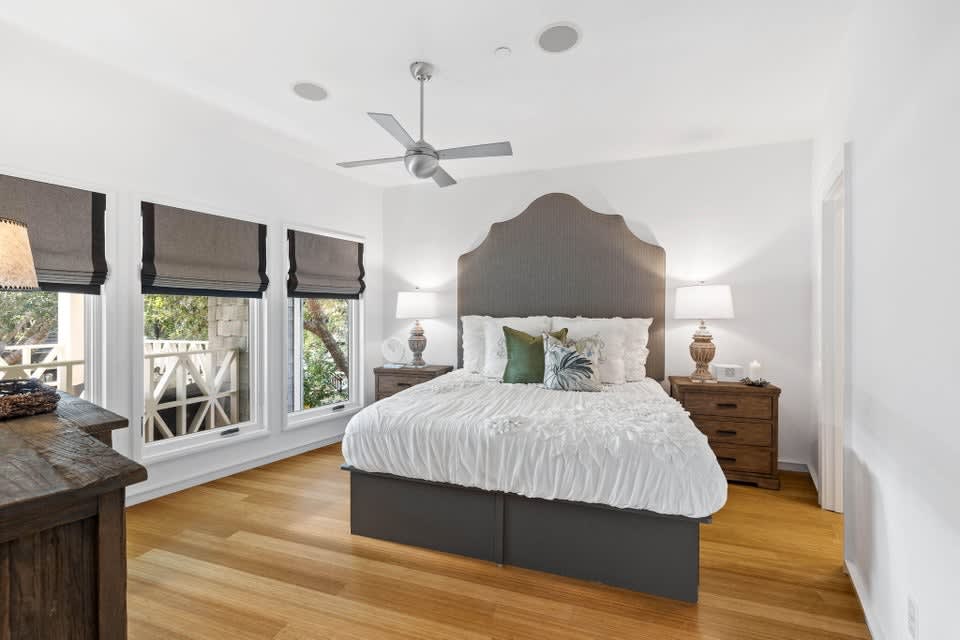 2nd Floor Primary Suite: This luxurious suite offers privacy and serenity. It's the perfect place to retreat after a day of fun in the sun.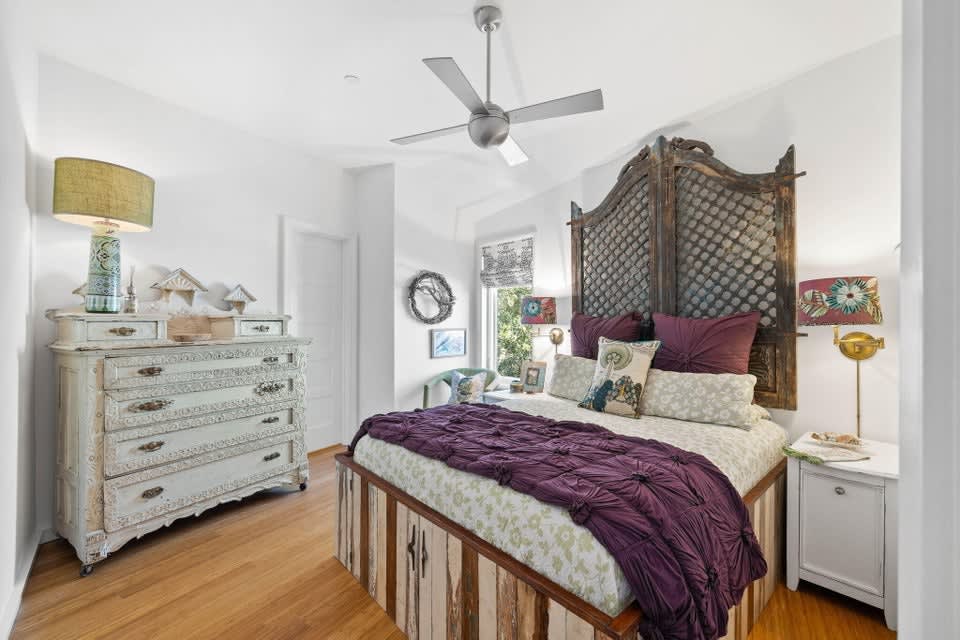 Guest Bedroom with Hall Bath: There's room for all your friends and family. The guest bedroom and hall bath provide a comfortable space for your loved ones.
A World of Outdoor Bliss
One of the most enchanting features of this property is its outdoor spaces.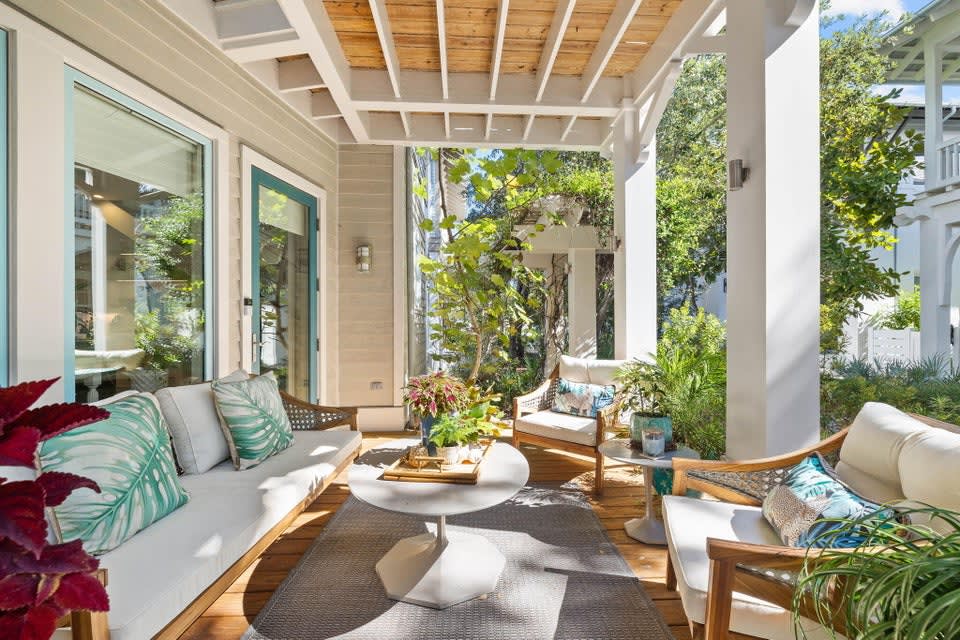 Covered Porches: With over 550 sq. ft. of covered porches on both the first and second floors, you'll have multiple options for relaxation and taking in the fresh, coastal air.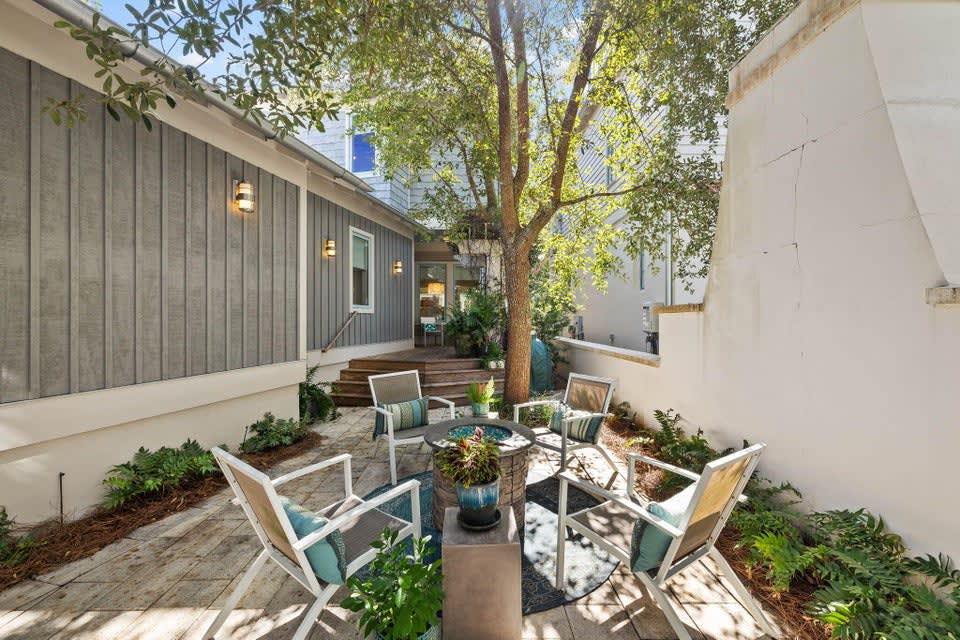 Courtyard with Firepit: The courtyard is an enchanting space, perfect for those warm Florida evenings. Gather around the firepit and create memories that will last a lifetime.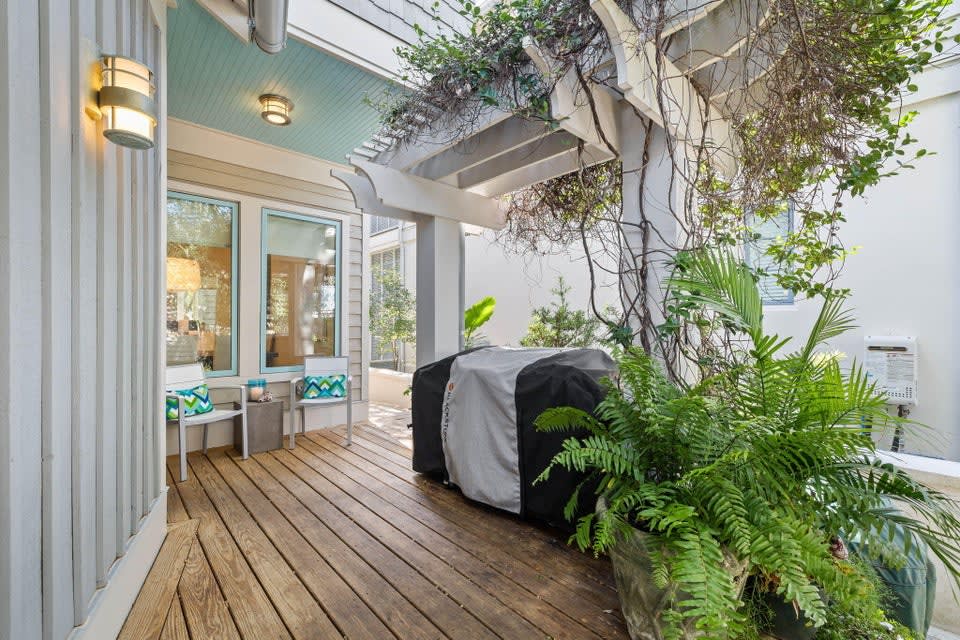 Covered Sitting Area with Grilling Pergola: Whether you're a seasoned grill-master or a casual barbecuer, the covered sitting area with a lighted grilling pergola will become your outdoor sanctuary.
Two-Car Garage with Carriage House: The two-car garage is practical and convenient, while the Carriage House, named "In the Present," offers a charming, private space for friends and family, or as a rental opportunity. With its vaulted wood-planked ceilings, hardwood floors, king-size bedroom, laundry, and a fully equipped kitchen, it's a cozy retreat.
Rosemary Beach – A Premier Destination
Rosemary Beach is more than just a location; it's a lifestyle. As you step beyond the bounds of your new home, you'll discover a vibrant Town Center, where families bike together, unique shopping experiences await, award-winning dining establishments tempt your taste buds, and nine private gateways lead you to the sugar-white sands and emerald waters of the Gulf of Mexico.
A Wise Investment
Investing in this remarkable property is not only an investment in a luxury residence but also in an income-generating asset. The Rosemary Beach Cottage Rental Company projects a Gross Rental Revenue of $200,566, providing you with a unique opportunity to enjoy your slice of paradise while reaping the benefits of rental income.
Your Caribbean Dream Awaits
The beauty of this Caribbean-inspired cottage in the heart of Rosemary Beach is not just in the aesthetics; it's in the stories waiting to be written within its walls. From the elegant design by architect Michael A. Piazza to the countless moments of joy and relaxation that you'll experience in this home, it's a place where dreams become reality.
Are you ready to embrace a life of luxury, relaxation, and the enchanting spirit of the Caribbean? This home offers it all, and so much more. Contact us today to make this dream your reality and let the adventure begin in this captivating corner of paradise.