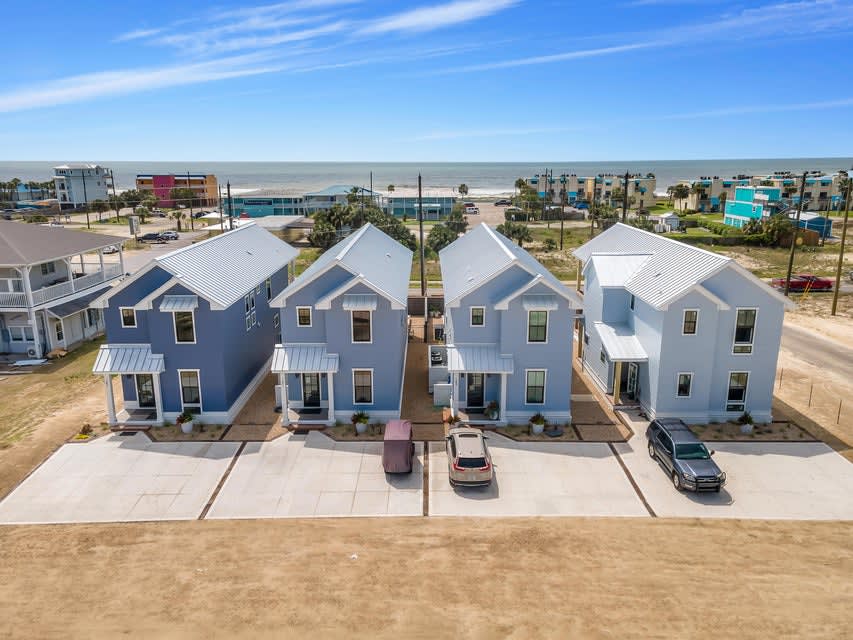 Are you ready to experience the epitome of coastal living on St. George Island? If so, this immaculate new beach house, completed in 2023, will not disappoint. Located just a stone's throw away from the bustling commercial district and pristine beaches, this 4-bedroom, 4-full bath two-story haven offers the ideal mix of elegance and comfort, making it perfect for those seeking a private family retreat or a savvy investment property.
As you explore the details of this extraordinary beach house, you'll discover that it sets a new standard for luxury living on the island. From the heated and chilled private pool to the thoughtfully designed living spaces, every element has been carefully considered to create a truly exceptional experience.
A Seamless Blend of Modern Luxury and Coastal Charm
One of the standout features of this beach house is its ingenious design. Unlike many other properties on the island, this home is built on a sturdy slab foundation. This not only ensures stability but also offers the distinct advantage of having the living area and kitchen on the first floor, opening directly to the pool and outdoor living area. Say goodbye to the days of lugging groceries upstairs. Convenience and ease are at the heart of this design.
Step inside, and you'll be greeted by an interior that is both bright and cozy. Luxury vinyl planks adorn the living areas and bedrooms, providing a warm and welcoming atmosphere. The bathrooms are adorned with stunning tiles, while the kitchen showcases pristine quartz countertops. Shiplap walls add a touch of coastal character, perfectly balancing modern aesthetics with a classic beach vibe.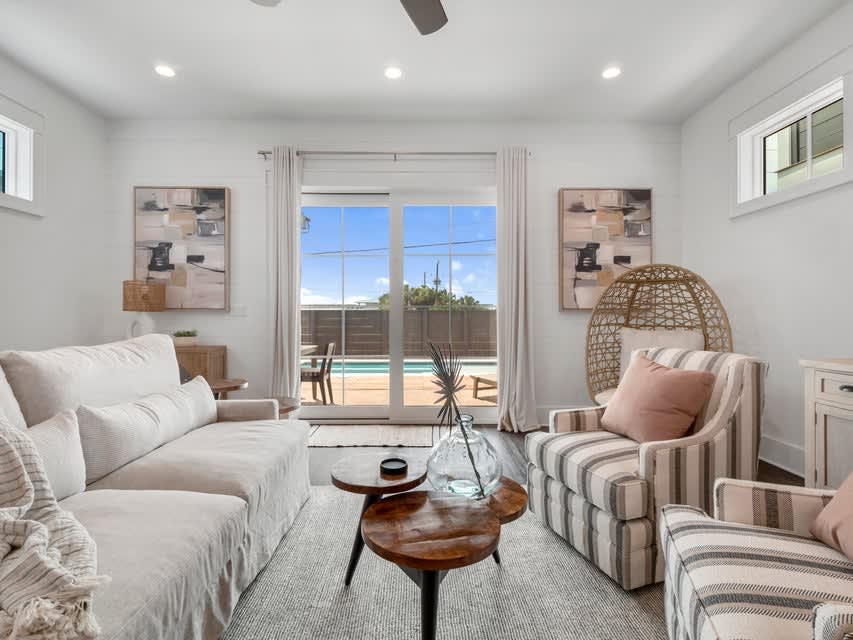 Gourmet Kitchen: Where Culinary Dreams Come True
For those who appreciate the art of cooking, the kitchen in this beach house will be nothing short of a dream come true. It features a stainless steel French door refrigerator freezer with an ice maker and water dispenser, an electric double oven range, an exterior vented stainless steel hood vent, and built-in cabinet trash drawers. Whether you're preparing a simple breakfast or an elaborate feast, this kitchen is equipped to handle it all. It's the heart of the home, where families and friends can come together to create unforgettable moments.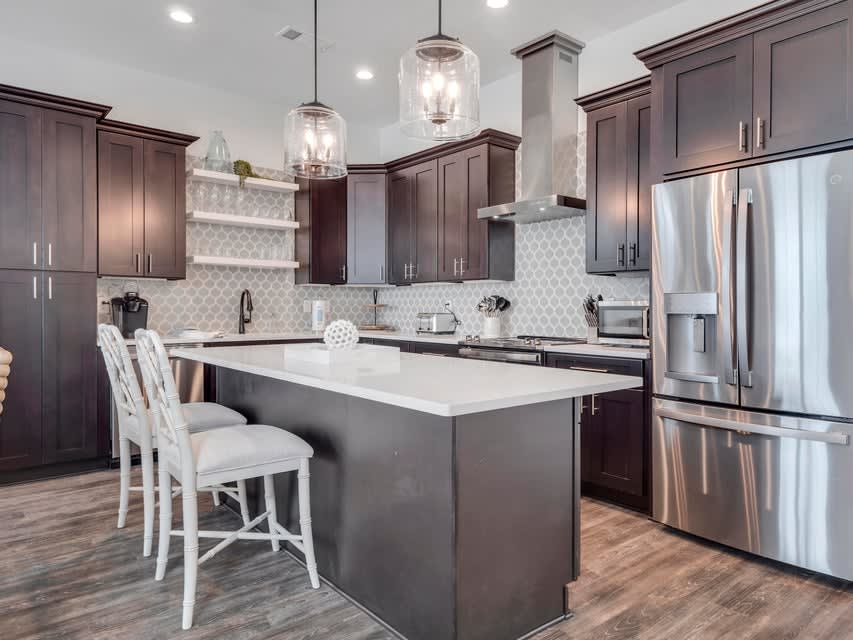 Primary Bedroom Retreat with a View
The primary bedroom, located on the second floor, is a sanctuary of comfort and style. It boasts an unobstructed view of the Gulf and the pool deck, offering a daily reminder of the breathtaking natural beauty that surrounds you. The shiplap vaulted ceiling adds a touch of sophistication, while the private balcony offers a space to unwind and soak in the fresh sea breeze. The luxurious double vanity bathroom is a true escape within your escape, providing a spa-like experience right at home.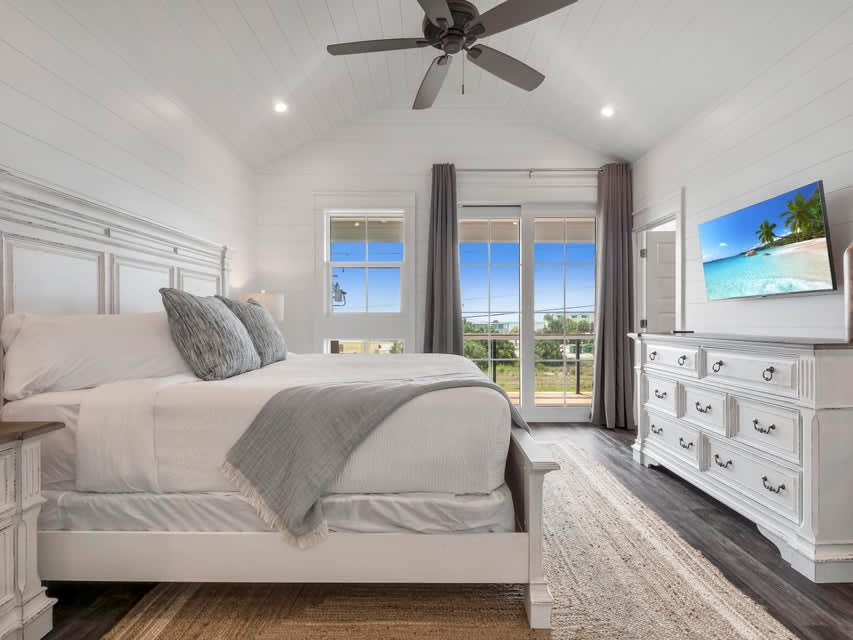 Your Private Outdoor Paradise
One of the highlights of this beach house is the outdoor living area. It is a tranquil and private oasis designed for relaxation and enjoyment. A tall privacy fence ensures your seclusion, while the covered and uncovered cumaru decking provides plenty of space for outdoor activities. Whether you want to soak up the sun or find some shade, there's a spot for everyone. The heated and chilled pool, complete with fountains, is the crown jewel of this space. Take a refreshing dip on a hot summer day or enjoy a relaxing swim in the evening – the choice is yours.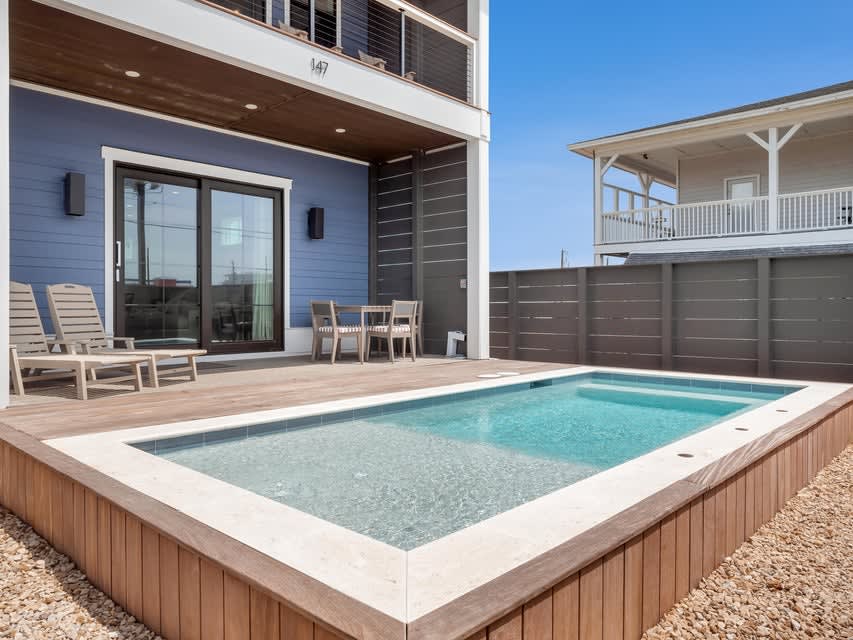 Move-In or Rental Ready: Your Choice
When you choose this beach house, you're not just buying a property; you're investing in an extraordinary lifestyle. The house comes fully furnished, making it move-in ready for those eager to make it their new home. Alternatively, if you're looking for an investment property, it's rental-ready, ensuring a seamless transition into the world of vacation rentals. You can start earning income from day one.
Experience New Construction and Low Maintenance
For those who appreciate the value of new construction and low-maintenance living, this beach house is a dream come true. The cutting-edge design and materials ensure that you won't be bogged down by constant repairs or renovations. This allows you to make the most of your time on the island, whether that means walking, biking, or cruising around in a golf cart to explore the many attractions, restaurants, shops, and, of course, the beautiful beaches that St. George Island has to offer.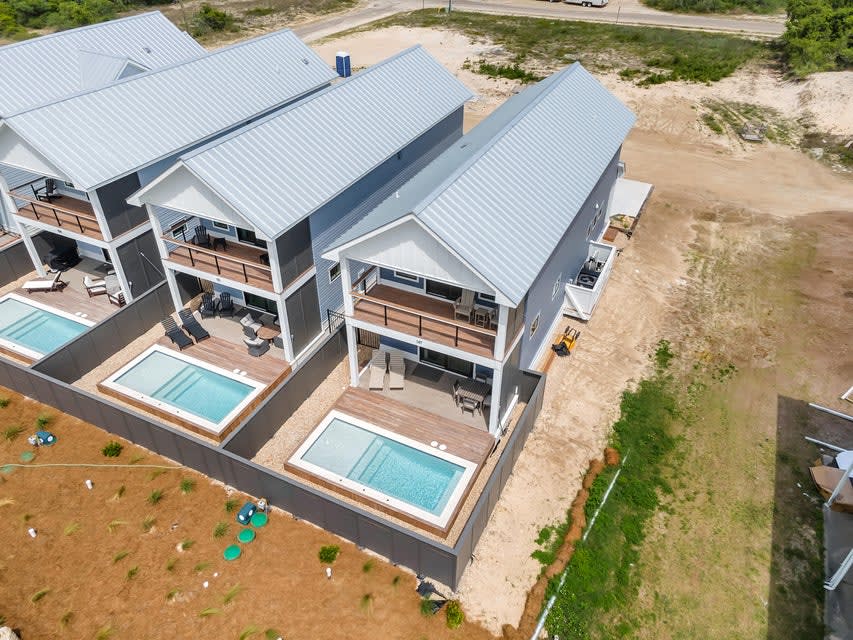 Location, Location, Location
In the world of real estate, they say it's all about location. This beach house exemplifies that idea to the fullest. It's nestled in one of the most desirable spots on the island. The commercial district is just steps away, so you can easily access a wide range of restaurants, shops, and entertainment options. The beaches are equally close, ensuring that you're never far from the soothing sound of the waves and the endless stretches of sand.
The Island Lifestyle Awaits
St. George Island is renowned for its pristine beaches, abundant wildlife, and a relaxed, welcoming atmosphere. It's a destination where you can immerse yourself in the wonders of nature, from birdwatching and fishing to kayaking and exploring nearby state parks. This beach house provides the perfect base to enjoy everything the island has to offer, and more.
The Time to Act is Now
With a beach house of this caliber, time is of the essence. The opportunity to own a property of such quality in this prime location is rare. Whether you're searching for a family retreat, a rental investment, or a combination of both, this home has it all. Don't let the chance to live the island dream slip through your fingers.
This new beach house on St. George Island is the embodiment of luxury and convenience. It seamlessly blends modern luxury with coastal charm, offering a superbly designed space where every detail has been carefully considered. From the gourmet kitchen to the primary bedroom retreat and the private outdoor paradise, this home is designed for comfort and enjoyment.
For those seeking a turnkey solution, the house comes fully furnished and is ready for immediate move-in. Alternatively, it's rental-ready, offering an exceptional investment opportunity in one of the most desirable locations on the island.
The island lifestyle awaits you – whether you're exploring the natural wonders of St. George Island or enjoying the vibrant commercial district and beautiful beaches, this home offers it all. Don't miss your chance to own this exceptional property. Act now, and make your dreams of island living a reality.