Nestled within the heart of the coveted Camp District in the serene enclave of WaterColor, the exquisite 44 Crossvine Circle stands as a testament to luxury living on 30A. This remarkable 5-bedroom, 6-bathroom haven is more than just a house; it's a captivating retreat that blends nature's beauty with sophisticated design, creating an atmosphere of pure enchantment.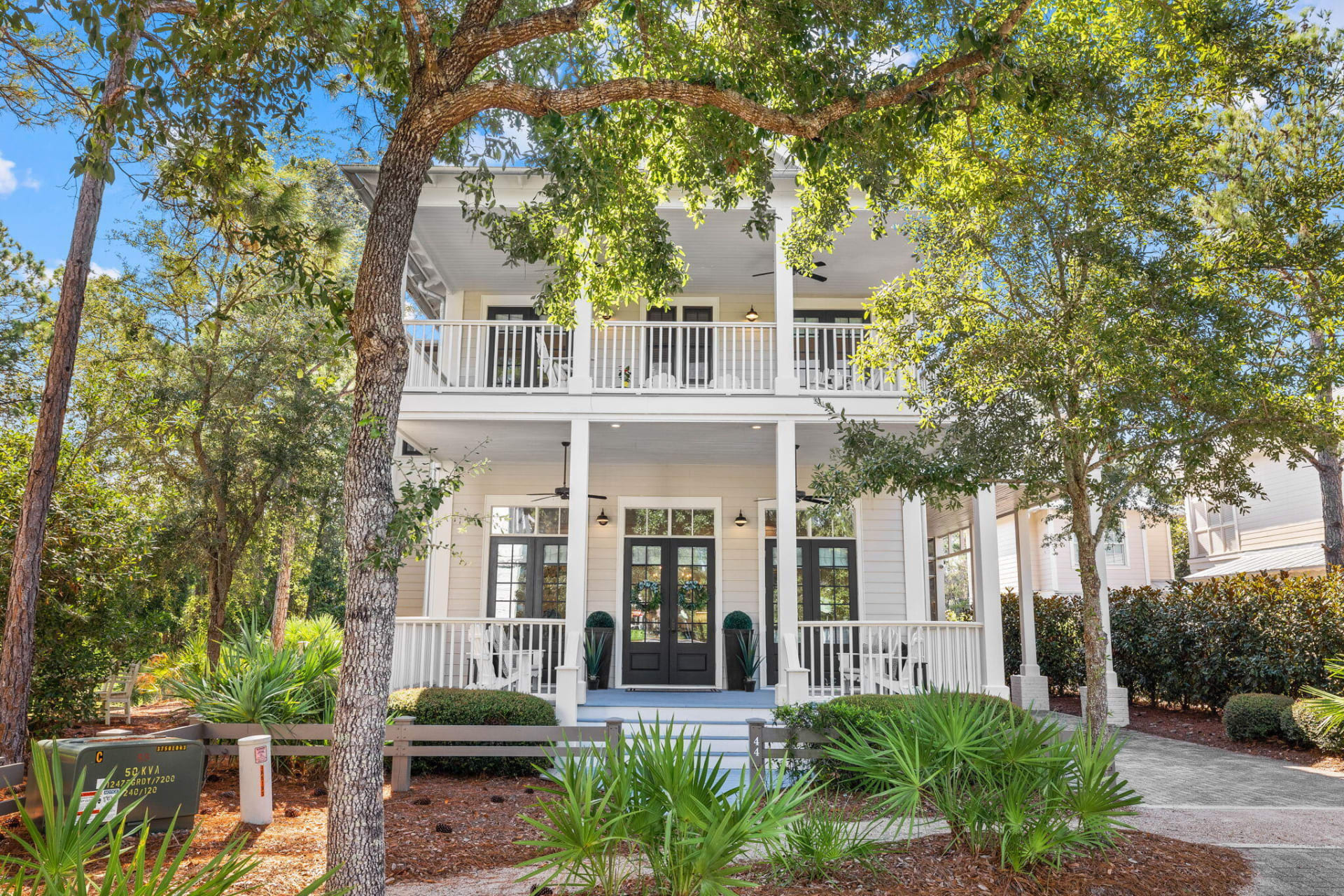 Unveiling the Camp District Charm
Positioned gracefully on the cul-de-sac of Crossvine Circle, 44 Crossvine Circle is a true masterpiece, reflecting the distinctive allure of the Camp District. The home's location is a gateway to the very essence of the WaterColor experience - just steps away from Camp WaterColor and Wood Fern Park. Imagine a life where your backyard is a canvas painted in watercolors, where every hue of nature is at your fingertips. Here, the rhythm of life flows in harmony with the gentle waves, and the aura of tranquility becomes an everyday reality.
Luxury Redefined
The moment you step foot into this 3,848 square foot abode, it's clear that luxury takes on a new meaning. The interiors are a symphony of opulence and comfort, thoughtfully designed to elevate your living experience. The 12-foot ceilings create an airy ambiance, while the wire-brushed oak hardwood flooring whispers of rustic elegance beneath your feet.
The heart of this home, the kitchen, is a haven for culinary aficionados. With marble countertops and top-of-the-line appliances, it's a space where gourmet creations come to life. Every corner of this home exudes an aura of curated luxury, where no detail has been overlooked.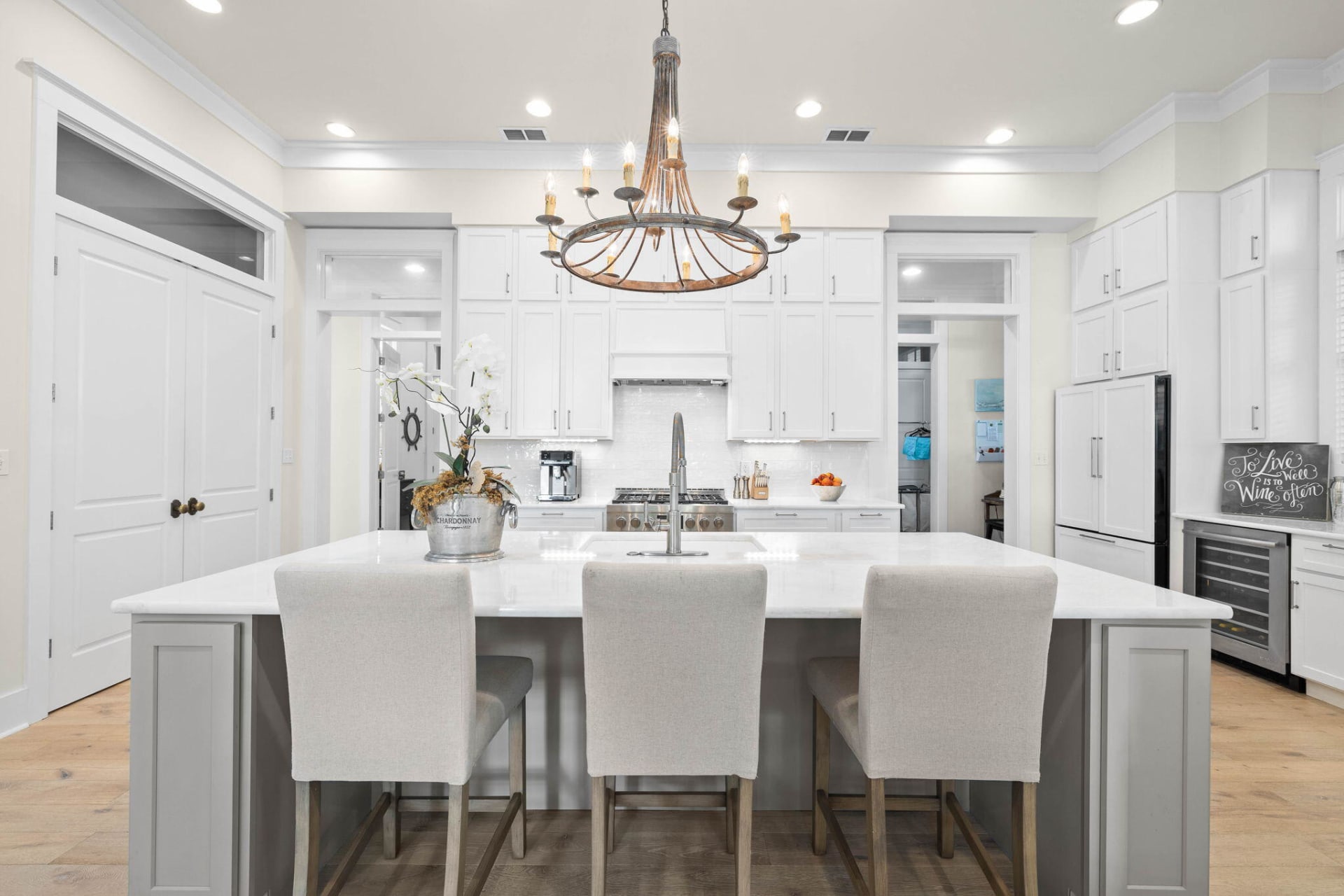 Bedrooms Fit for Royalty
44 Crossvine Circle offers not one, but two primary suites - a true rarity that indulges you with choices. Three king guest suites stand as a testament to the home's commitment to comfort, each inviting you to unwind in style. And let's not forget the private bunk room, a playful haven for the young ones. With 6 full baths adorned in sophistication, every moment spent here is a reminder of the pampered lifestyle that luxury homes on 30A promise.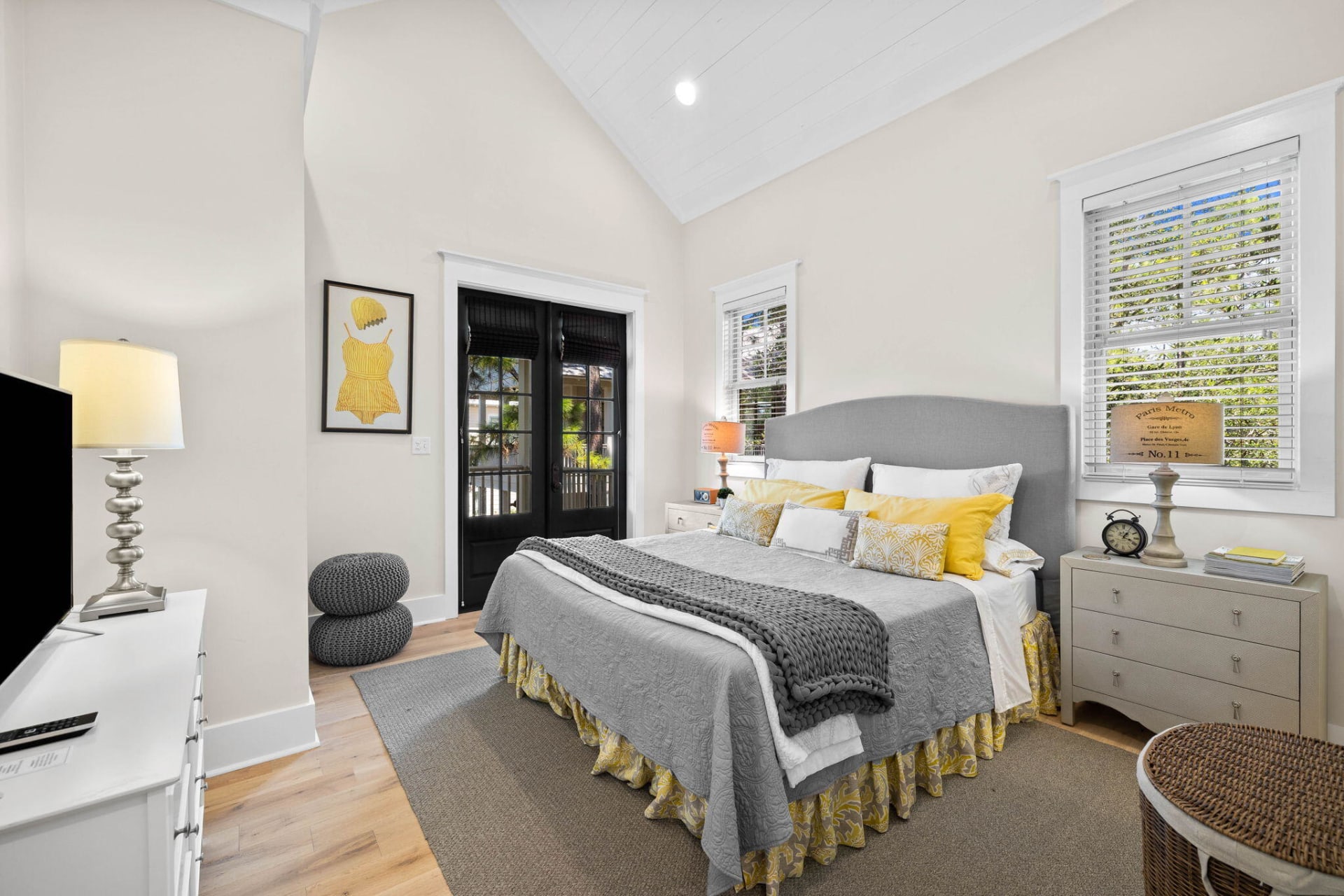 A Tapestry of Outdoor Delights
As the sunlight dances on the emerald waters of the Gulf, the outdoor spaces of 44 Crossvine Circle come alive. With over 1,700 square feet of porches and outdoor retreats, this home is an entertainer's paradise. The heated pool invites you for a refreshing dip, while the hot tub with its own "chiller" is your oasis of relaxation. The stone decking sets the stage for sun-soaked lounging, offering a seamless transition from indoor opulence to outdoor bliss.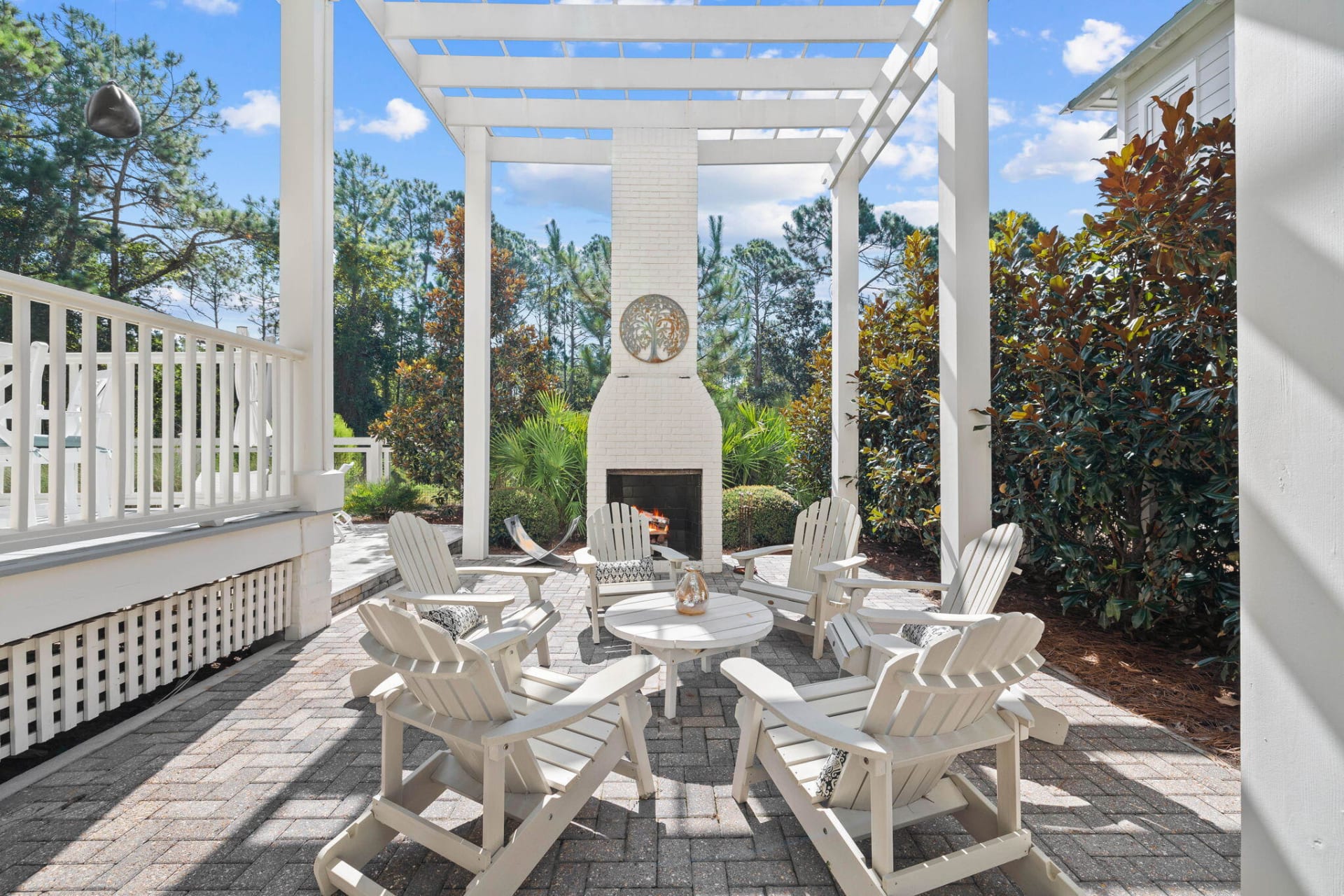 A haven for gatherings, the screen porch effortlessly extends the living area, allowing you to relish in the gentle breeze. And what's more enchanting than a pergola-covered outdoor fireplace, surrounded by six Adirondack chairs? This is where stories are told, laughter resonates, and memories are etched into the tapestry of time.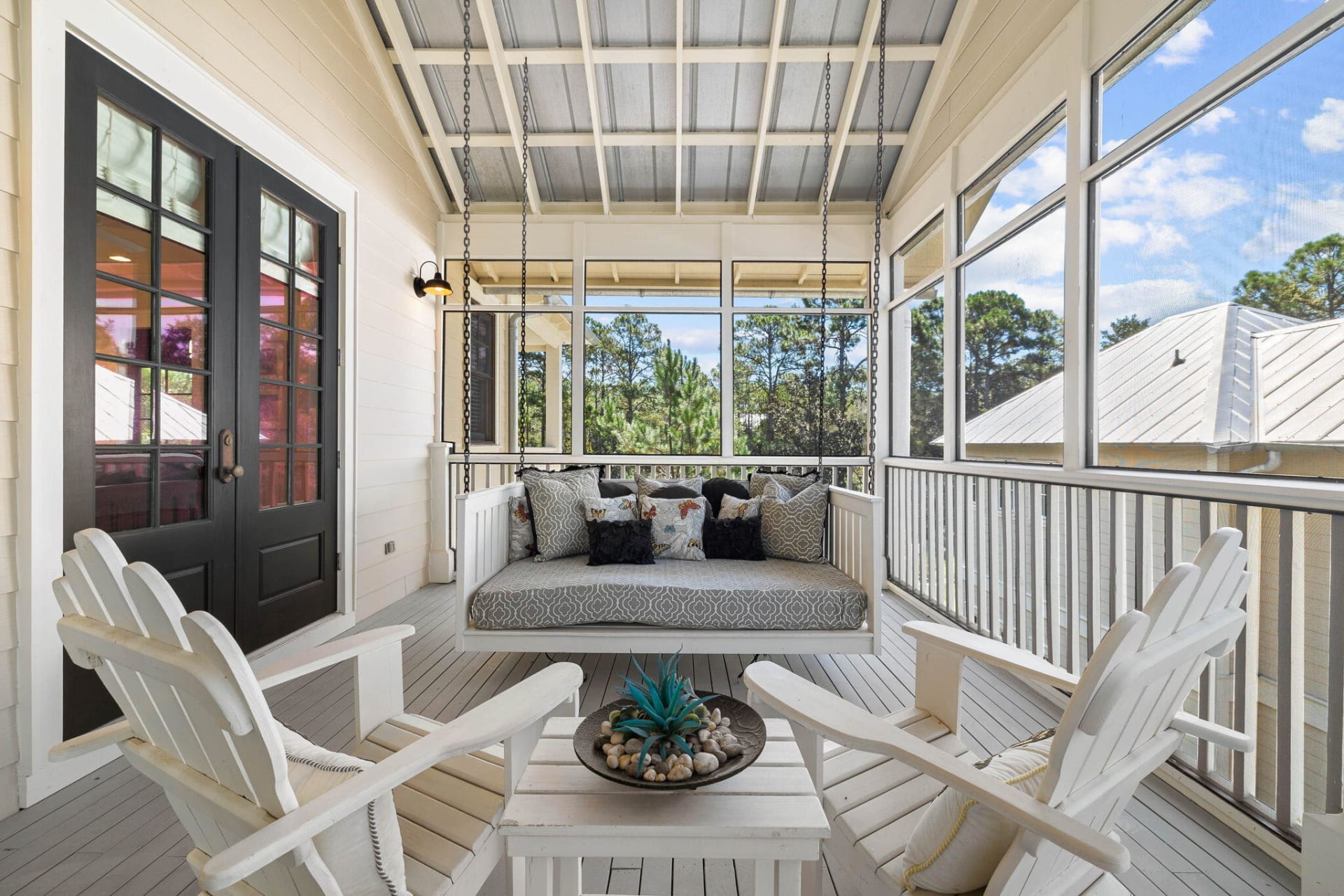 Preserving Nature's Serenity
Nature's embrace is a constant companion at 44 Crossvine Circle. The home is gracefully bordered by a preserve forest, ensuring your privacy and creating an ambiance of seclusion. It's a luxury that can only be found in few places, where the rustling leaves become your lullaby and the starry skies your ceiling.
A Home, Fully Furnished & Forever Yours
The allure of 44 Crossvine Circle is not limited to its structure alone. This haven of luxury is offered fully furnished, making the transition into your dream lifestyle a seamless one. Every piece of furniture, every carefully selected adornment, speaks of a life well-lived, of moments cherished.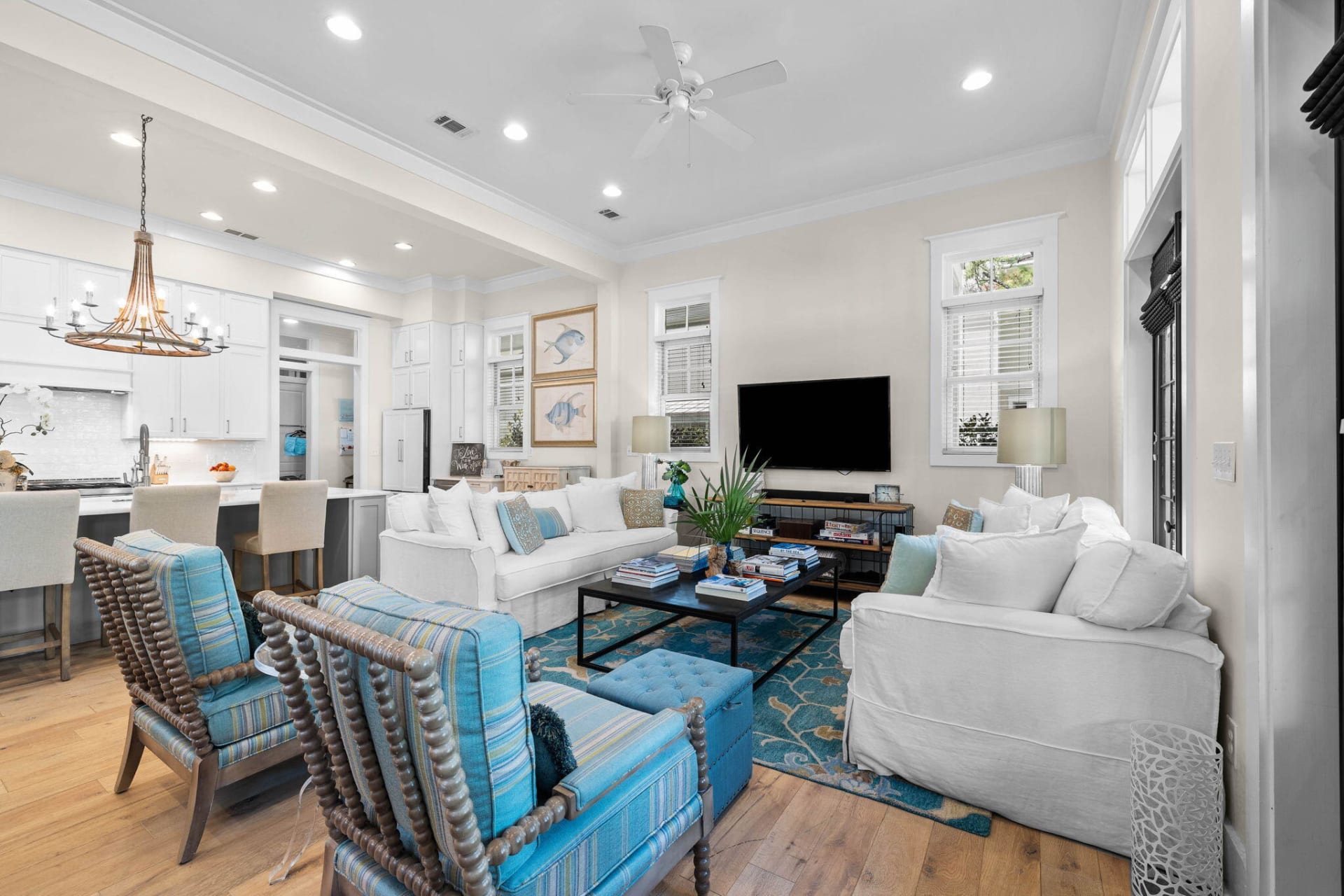 30A Living - Where Dreams Set Sail
30A, a name synonymous with coastal elegance and relaxed sophistication, is home to some of the most enchanting properties in the world. 44 Crossvine Circle is a testament to the allure of 30A homes for sale - it's not just a piece of real estate; it's an embodiment of a dream. A dream where luxury meets nature, where every sunrise is a promise of new adventures, and every sunset is a celebration of life's blessings.
44 Crossvine Circle is more than just a luxury home; it's a chapter in your story, an oasis of comfort, and a canvas for your dreams. From its Camp District charm to its meticulously designed interiors and captivating outdoor spaces, every element comes together to create a symphony of opulence and tranquility. It's a chance to experience the best that 30A real estate has to offer, to embrace a lifestyle that's both timeless and extraordinary. So, come, step into the world of 44 Crossvine Circle, and let the journey of a lifetime unfold.