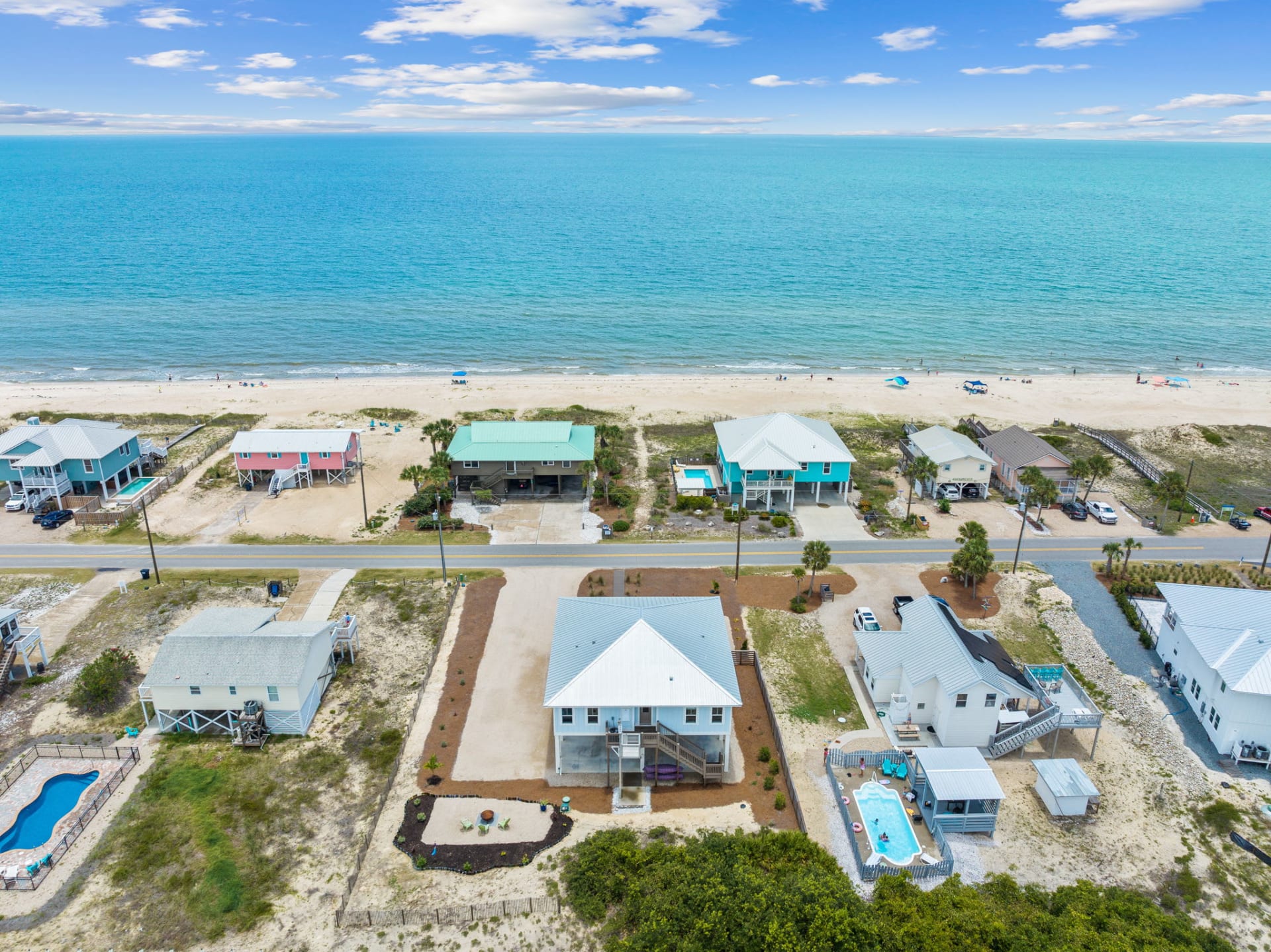 Welcome to a coastal paradise where breathtaking beauty, luxurious amenities, and unspoiled tranquility converge. We invite you to embark on a virtual journey to explore a remarkable 1st tier house on St. George Island, offering endless Gulf views and deeded beach access. Prepare to be enchanted by this like-new, four-bedroom, four-bathroom beach house, completed in 2019, that promises an unparalleled living experience.
Unveiling Coastal Luxury
Upon arrival, you'll be greeted by a residence that embodies coastal luxury at its finest. This meticulously designed and maintained home has never been rented, ensuring that every detail reflects the care and attention worthy of your personal sanctuary. From the moment you step inside, you'll be captivated by the seamless blend of sophistication, comfort, and awe-inspiring Gulf views.
Indulge in the Finest Features
This beachfront haven spares no expense in providing you with the features and luxuries that define a true coastal retreat. Picture yourself preparing culinary masterpieces in the gourmet kitchen, equipped with a propane gas range and high-end appliances. The tankless water heater ensures a constant supply of soothing showers after a day spent sun-kissed and sand-dusted.
As you explore the house, you'll be greeted by the soft touch of LVT and tile flooring underfoot, complementing the coastal ambiance. The open living spaces seamlessly connect to the outdoors, inviting the beauty of the Gulf to become an integral part of your everyday life. Sink into relaxation on the Trex decking, enjoy cozy evenings around the outdoor fire pit, or entertain effortlessly in the pool front entertainment area. This is a home that celebrates the art of coastal living.
A Gateway to Gulf Serenity
The true allure of this remarkable property lies in its exceptional Gulf views and immediate beach access. Elevated above W. Gorrie Drive, the ground elevation allows you to immerse yourself in sweeping vistas from the pool deck and the under-house entertainment area. A Trex covered walkway beckons you to explore the deeded beach access just steps across the street, where pristine sands await your barefoot adventures. Each sunrise and sunset will be a breathtaking masterpiece, as you savor the beauty of the Gulf from the expansive 10'x44' covered front deck.
Inside the house, the beauty of the Gulf accompanies you throughout your daily routines. Imagine waking up to panoramic vistas in the master bedroom or enjoying a cup of coffee in the light-filled kitchen, both of which offer captivating Gulf views. Even the living room and secondary master bedroom provide windows to paradise, making every moment a reminder of the natural wonder that surrounds you.
A Haven for All Your Needs
This coastal gem goes beyond mere beauty and offers practicality as well. Ample parking, including covered spaces, ensures convenience for you and your guests. There's even room for boat trailers and RVs, enabling you to embark on endless adventures along the coast. Sold mostly furnished, this home is ready to become your personal oasis or a lucrative investment opportunity, with Cape & Coast Premier Properties projecting an impressive annual gross rental income of $140,153.
Embrace St. George Island's Charms
St. George Island is a laid-back beach town that boasts low density, never-crowded beaches, and the untouched allure of old Florida. Whether you're a nature enthusiast, a beach lover, or a seeker of serenity, this island offers a true escape from the bustle of everyday life. Explore the pristine beauty of the island, savor delectable seafood cuisine, or embark on a fishing adventure—St. George Island has it all.
Your Opportunity Awaits
Properties of this caliber and rarity are seldom available on St. George Island, making this a unique opportunity you won't want to miss. Take the first step towards owning your own slice of paradise by visiting the link below. Our team at 850 Properties is ready to guide you through this extraordinary journey of discovery.
Click here to explore more about this remarkable property and start your journey towards coastal living.
Disclaimer: Buyer to verify all data and dimensions.